Despite many years living as both a hardcore boxing fan and New Yorker, I had never been to the International Boxing Hall of Fame before this weekend. But this year was different – three classes were being inducted at once, featuring nearly all of the greats that helped cement my love for the sport. I tried my best to temper my excitement over the prospect of scoring cherished autographs and handshakes from living legends. After all, there's no telling whether luck would be on my side, right? 
I was thrilled to be wrong, and left Canastota with even more affection for the sport of boxing and its brave participants.
First Impressions
When I arrived at the Hall itself, it was difficult not to be struck by its simplicity. The museum, a fairly nondescript diner-sized building, stood to the left of a stage and gift shop housed under an overhanging roof. Smitty from "In this Corner" was mc'ing with enthusiasm. I had barely made it onto the sidewalk in front of the stage when I saw Shawn Porter having just arrived, smiling and posing for photos with fans. I was lucky enough to grab one myself, expressing my love for The Porter Way Podcast, before a much larger crowd would line up in front of Shawn later in the day. This first encounter – one I thought I would have to chase down over the course of the weekend – gave me an immediate understanding of just how much a boxing fan can see and do over Hall of Fame weekend.
Minutes later, I approached the seating area in front of the stage. I saw a tall man leaning forward in an oddly familiar way, using his hands to intently explain something. I realized I'd seen that posture many times before – it was referee Kenny Bayless. He was all too happy to shake my hand and seemed as excited to meet me as I was him. I quickly spotted referee Robert Byrd standing nearby, who was just as gracious. While I wasn't the only one asking these famous figures for pictures, I noticed how anonymous they were to many of the fans present. I quickly learned that the discerning eye of a hardcore fan can spot precious opportunities for engagement.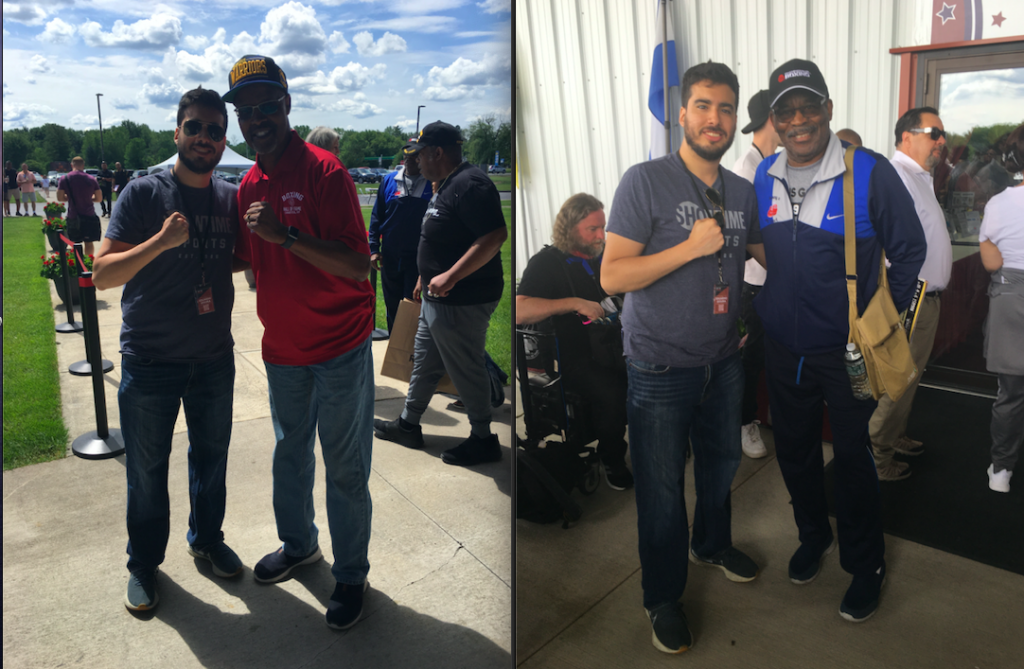 Though modest in size, the museum itself boasts plenty of iconic pieces of history: Tommy Hearns' Kronk yellow trunks, Ezzard Charles' gloves, Sugar Ray Robinson's shoes, Marvin Hagler's robes; championship belts, posters, and ticket stubs from too many fighters and fights to name. One exhibit that caught my eye was the collection of bronze-casted fists of past inductees. I found myself measuring the power of the fighter against the size of their fist, speculating a possible correlation. Of all the weighty paws displayed,  Lennox Lewis' stood on its own; it seemed to belong to a species of giant. 

Perhaps the most important part of the museum, however, were the plaques of the inductees. Many fighters dream of ending up on these walls, but relatively few ever will. Boxing fans often lament that the bar for entry into the Hall is too low, but looking at the numerous rows and columns, I only saw deserving faces. From the walls came sounds of TV sets displaying classic fights and documentary narrations which only enhanced the atmosphere.
Amanda Serrano's gloves from her fight with Katie Taylor had their own display. "I was at that fight! That fight was crazy!", exclaimed a woman. I told her I had only seen it on television, but that it was possibly the best women's fight there ever was. I couldn't help but notice that her name badge said "Hopkins Family." We asked if Bernard would be coming by that day, to which she said he would. Minutes later, she was kind enough to alert us that he was already on stage and talking.
B-Hop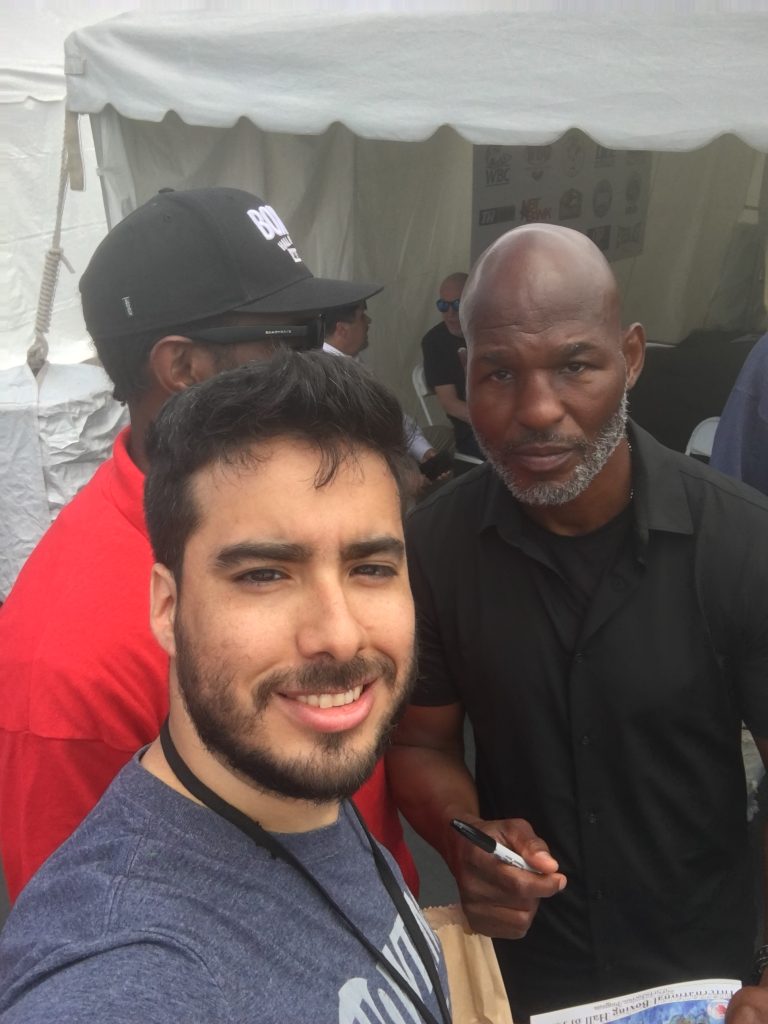 My first time seeing Bernard Hopkins in the flesh was March of 2013, when he defeated Tavoris Cloud and broke his own record to once again become the oldest champion in boxing at 48 years old. Nine years later, aside from a little more white in his beard, he appeared just as fit as when he was fighting. "I'm only 4 lbs above my fighting weight," he boasted. I believed him. As he often does, Bernard spoke at length about his career and the many times he reinvented his identity. From "The Executioner" to "The Alien", a switch meant to highlight his uncommon longevity, and later to "B-Hop" – a moniker which he claims came about as a simple mistake. When the EA Sports video game Fight Night was designing his attire, they noted that the word "Hopkins" wouldn't fit nearly on the waistband. The abbreviated B-Hop was born and stuck ever since.
Although it's easy for adherents of the oldschool to trash today's fighters, Hopkins went a different route, praising the willingness of today's fighters to pay more attention to their finances, but also applauding their willingness to pressure promoters into "crossing the street" to get the big fights. With the rise of unification fights in recent years from the likes of Canelo, Crawford, and Haney & Kambosos, it seems this new breed of athlete can be just as eager to establish a legacy as their forebears.
Across the parking lot where the media tents stood, I saw a line forming to get Bernard's autograph. I stood back once I saw the crowd was jostling and shoving to the annoyance of the man himself. I asked myself why fans would want to agitate the very person they venerate. When it was my turn, I thanked him for his patience as he signed my program. A moment later, I heard fans whispering about someone refusing to sign something. Apparently someone had asked Hopkins to sign a blank piece of paper, reasoning that the fan could simply sell it on ebay; I was told he required something with his face on it or bought from the Hall, and seriously chided the fan. Something to keep in mind for any fans who cross his path in the future.
Lou Dibella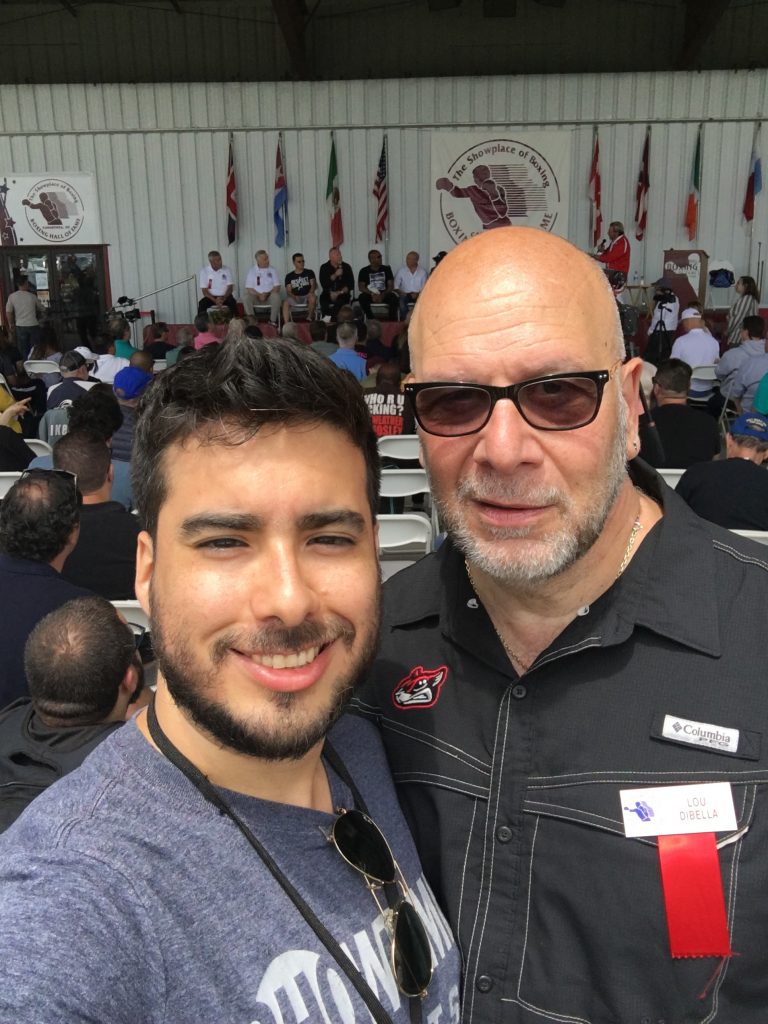 As a collection of the sport's most esteemed referees told stories and answered questions, I spotted a prospective Hall of Fame inductee sitting right in the crowd: promoter Lou Dibella, chatting it up with a couple of fans. He nearly marched off before spotting me shuffling behind him and kindly stopped to take a picture with me. Somehow I had lost my sharpie. "Don't worry, we'll fix that", he told me, before bellowing "ANYBODY GOT A PEN?" Later on, I managed to chat with Lou about the state of boxing and the prospect of boxers forming their own union. He frowned with regret. "We're too fragmented, too separated, and the truth is we don't take care of our own." Of all the promoters in the sport, I always felt that Lou cared most about the sport as a whole. The warmth and openness with which I saw him interact with fans made me think I might have that one right.
To Be Continued…