Iain Dolan at Ringside for Off the Hook
An otherwise superb Queensberry show at York Hall on Friday night was slightly marred by some unpleasant brawling and chair throwing after the main event. Up until that point, we'd had a very enjoyable evening of spectacular KOs and lively action throughout. Ellis Zorro scored a show reel stoppage win over Hosea Burton in the main event at Cruiserweight after struggling for much of the fight. Zorro suffered a bloody nose early on as the taller Burton continually caught him with the jab as he tried to close the distance. As the rounds progressed, Zorro started to land the overhand right he'd seemed reluctant to throw previously, and Burton didn't really have an answer for it. One such overhand right landed flush on Burton's jaw in the 7th and had him in all sorts of trouble. Burton went down and although it was ruled a slip, it was only temporary salvation as another overhand right sent him crashing to the canvas hard enough for referee Marcus McDonnell to halt the contest. A Big win for Zorro and one that should move him on to some more high profile bouts. Had to see where Burton goes from here having lost again when stepping up. If he wants to carry on as a gatekeeper then that's definitely there for him but having fought as a pro for over a decade will he want to do that?
Willy Hutchinson also recorded a highlight reel KO against the incredibly gung ho Ezequiel Maderna at light heavyweight. Maderna, who was coming off a win over Karol Itauma, started throwing wild bombs from the 1st bell and nearly caught Hutchinson by surprise a couple of times but Hutchinson kept his head and dropped Maderna with a left hook in the 2nd. Maderna continued to charge forward launching haymakers like a mad man but Hutchinson bided his time before throwing a huge right hand of his own that flattened Maderna. Maderna left the ring on a stretcher at the doctor's advice but was declared fit and well shortly afterwards. Hutchinson will also move onto bigger things after this eye catching win.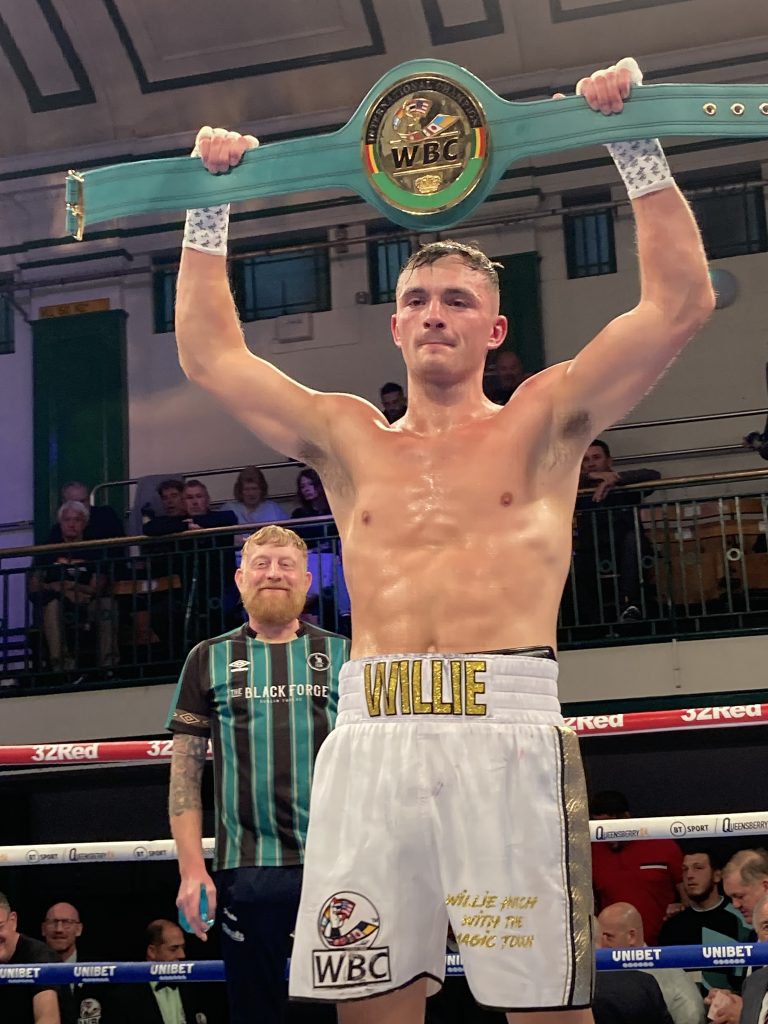 Ryan "The Piranha" Garner needed only two rounds to halt Eduardo Valverde at Featherweight. Two wicked body shots in the 2nd round dropped Valverde and he failed to beat the count the 2nd time. Hopefully Garner can stay busy and get his career back on track after a few wayward years. He'd brought a fair few fans from Southampton, one of whom had a Ghana flag, because it sounds the same as "Garner". Genius, sort of.
Karol Itauma is starting from further back, having to regroup after his own loss to Maderna and negotiated a useful eight rounds at Light Heavyweight against the hard headed Frenchman Khalid Graidia. Gradia was a good choice of opponent, punishing mistakes (Itauma is still too prone to retreating in a straight line or standing in the pocket too long) but without causing any serious problems to Itauma. Growing in confidence as the fight wore on, Itauma dropped Graidia in the final round to take a 79-72 decision win.
Sean Noakes also had a short night at Welterweight putting away Robin Zamora in less than a minute So quick in fact that I hadn't finished typing "All along the watchtower" for Noakes' ring walk music.
All in all, it was a very entertaining night of fights with plenty of KOs, action and drama and absolutely no need for a bunch of simpletons to start launching chairs about the place because their guy got chinned. Just FYI, if you ever do find your self in that situation, I can heartily recommend hiding behind Moses Itauma because I felt much safer once I had done so. He didn't seem to mind too much either which was decent of him.