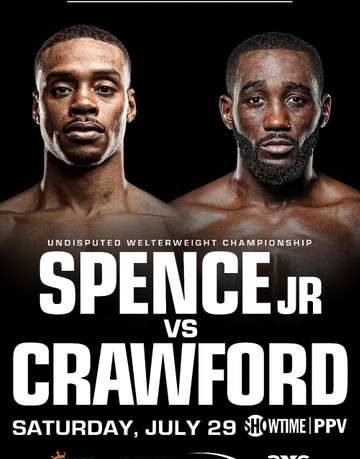 Of all the fights to take place in 2023, none will have been as anticipated as the welterweight unification clash between Errol Spence and Terence Crawford. As the two standout welterweight talents since the end of the Mayweather/Pacquiao era, fans and experts alike largely believe that this fight will determine the pound-for-pound #1 fighter in boxing. As each fighter has their strengths – Crawford with his athleticism and ring IQ, Spence with his solid fundamentals and grinding body attack – this fight is not exactly easy to predict. We asked our forum members how they thought the fight would go:
Shadowboxer
Spence tries to come on strong early but Crawford will warm into the fight and slowly take over. Crawford winning an 8-4 type decision, or possibly earning a late stoppage victory.
Overlogging
Spence will have some success in the fight, following his pressure cooker MO. But ultimately, Bud will match Errol's pace with sharp, accurate, stinging counters & become increasingly dominant as the fight goes on. Bud breaks Spence's heart, TKO Rds 9-11. P4P No.1.
SJS
Spence comes out and takes charge whilst Bud gets a good look at him. Spence takes the early rounds but you'll see Bud dig to the body. It pays dividends later and Bud finishes with his hand raised.
JeffJ
Spence comes forward with a high guard and plenty of pressure. Crawford fights tactfully and downloads Spence's offense for a few rounds. By the middle rounds Crawford's movement has slowed and exchanges become more common. Fight is down to the wire and ends in a close decision. Can't decide if Bud makes a key adjustment down the stretch to eke out the win or if Spence's pressure has Bud too faded to do so.
Dempsey
Crawford is the smarter fighter who knows Boxing + Jeet Kune Do. He will take Spence apart on the inside. Spence may have the power, but Crawford is faster. The moment Spence takes a step backwards, it's the beginning of the end. Crawford late KO
Knox Harrington
Tactical fight. Spence goes up 4-1. Crawford wins the middle rounds, but Spence wins some late rounds. Spence wins by throwing more punches and nobody gets hurt.
Dillinja
I think Spence wins, putting work into the body from early in the fight. Crawford makes adjustments, but Spence proves a bit too physical down the stretch and wins a close fight.
Fredo Warren
Spence will build up a solid lead winning rounds via a string jab and activity. At the midway point, Crawford will come back into it and win the later rounds more clearly, but Spence has built up enough of a lead to seal the victory.
Frankos1885
Spence gets banjoed in round 8. He starts well but Carwford picks up pace and mugs him right off.
Jack
Spence comes out and tries to take possession of the center of the ring. Crawford lets him do so whilst snapping him with a jab from the outside until R3. Crawford grows into the fight when he has the measure of Spence and begins to put his stamp on the fight, sweeps most of R3-R9, stinging Spence a few times before Spence tries to rally to no avail as he can't trap Crawford. Crawford 116-112/117-111.
One to Watch
I see a contentious decision which will be talked about for weeks (and potentially years). Pressure and activity vs clean punching, no knockdowns, and a high level ebb and flow. It ends in a draw.
I'm Alan Partridge
Crawford is clearly 4-1 on all our cards, then there is an accidental headbutt causing the fight to be stopped. The three blind mice at ringside are tasked with giving a technical decision. They give it to Spence.
Rob 1983
Spence racks up the early uneventful rounds. Crawford takes most of the second half of the fight, but Spence does enough to nick a late round or two and win on points. People question why Crawford didn't start earlier.
JaimeC
Spence to take the early rounds with pressure but not much landing clean either side. At around the 5th round, Crawford starts getting the lead hand working, picking up rounds. Spence night hurt him at times but not picking up enough rounds. Crawford close decision.
1307
Spence gets exposed as a limited, one dimensional fighter who gets hit a lot.
Crawford gets an easy win.
chip h
Close stuff for first 7/8, then Bud takes over. Spence starts to look haggard at the weight with his partying and car crash life catching up, hanging on a bit, but makes it to the end. A 116/112 type score.
Pusnuts
Crawford takes over after round 5 and doesn't let Spence settle into a rhythm where he can load up. Crawford cuts up Spence with the jab and nasty uppercuts as Spence leans in. Crawford by clear decision or cuts stoppage
Davie
I think we might see quite a cagey affair, as you often see in proper elite vs elite fights. I reckon a lot of the things we expect from either man won't happen, particularly in terms of offence and pressure and we get a close points win. Picking Crawford to be a bit more crafty and take it with scorelines like 115-113, 116-113 and a dodgy 110-118.
Arj Guy
Crawford starts slow as usual and gets outworked losing most of the first 6 rounds. But then he starts to come on in the second half, catches Spence with a counter that he doesn't see coming and then finishes the job. Crawford by late stoppage
Boxingbarlow
Crawford is a bit too mobile and quick in the first half of the fight, using lateral movement, and piles up a big lead. Then second half of the fight, he slows down and Spence wins some rounds with body shots etc. Split decision to Crawford.
Dicky
Spence Dominates from the first bell. Crawford can't impose on him, and the adjustments don't work. Spence breaks him down round by round.
Jabjabgrab
Spence wins via pressure and superior strength, size and athletecism. Crawford will try and "download the information" but the only problem is he will be getting lit the eff up while downloading and will be too battered and bruised to do anything with it.
Relentless
It will start off slow with both fighters feeling each other out. Spence will then start trying to put it on Crawford with body and head shots. Crawford will figure him out by round 4 and start landing laser like precision missiles and either KO Spence late or school him.