Iain Dolan gives fight fans a live report of last Friday's Queensberry show, along with a bonus pub review.
A beauty of a left hook from David Adeleye ended matters emphatically in the 2nd round of the main event at York Hall on Friday night. The opponent in this heavyweight encounter, Dmytro Bezus, was enormous but quite upright and robotic. Bezus backed up Adeleye a couple of times, but other than that, it was one way traffic. Adeleye dropped Bezus with a stiff jab in the first round. It was only a flash knockdown but it felt as though the writing was already on the wall as Adeleye's confidence grew. The 2nd round was nip and tuck until Adeleye's peach of a left hook sent Bezus crashing to the canvas. Bezus did well to regain his feet before the ten count but the referee was correct to stop the fight. An encouraging highlight reel victory for Adeleye who will hopefully set his sights on the Lonsdale belt in the not too distant future.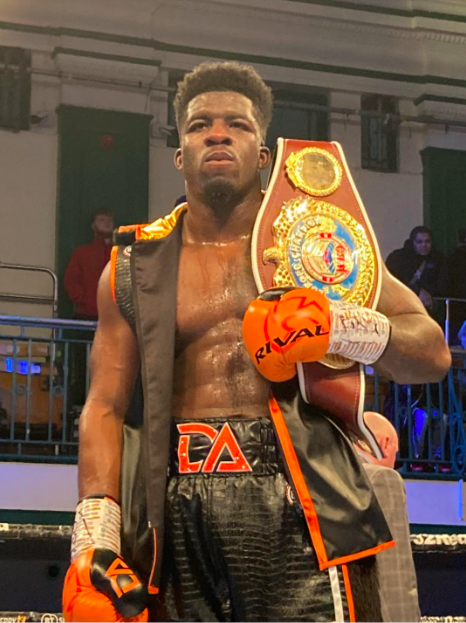 Chief support was an entertaining tussle between Mark Chamberlain and Vairo Lenti at lightweight, where Chamberlain also chalked up an eye-catching victory by way of a left hook. Both fighters were happy to stay at range for the most part and exchanges were often even. It felt as though Chamberlain was probably shading it overall, though Lenti was very much in the fight. Everything turned on its head in the 5th round however, when Chamberlain's left hook crumpled Lenti in a heap where he stayed for quite a while. There was some concern for Lenti as he received oxygen in the ring, but he was up and about applauding his Italian fans before too long. Good win for Chamberlain.
Henry Turner and Zeus de Armas clashed at light-welter where de Armas more than earned his money as Turner was cheered on by a good-sized number of fans. Turner had de Armas down in the 3rd and it would have been easy for him to stay down, but he rose and got straight back into the fray. A body shot dropped him again in the 4th, but it was the knockdown in the 7th that prompted the referee to call a halt.
Super Bantam Chris Bourke had to weather a storm to get the best of Nicaraguan journeyman Darwin Martinez. For a while it looked as though yet another central American import had forgotten to read the script against a prospect as Bourke sustained a cut under his right eye and was backed up by Martinez in the opening round. Bourke, who had also sold a decent few tickets, turned things around with a body shot in the 2nd round before finally stopping Martinez in the 3rd.
There were very early nights for both Southampton prospect Royston Barney Smith over Lesther Lara at Super feather and Aloys Junior over Jiri Krejci at light middle. The combined total of both fights was less than two minutes.
In contrast, Carl Fail could probably still be hitting the brick outhouse that is Serge Ambombo at super middle without making a dent in him. Fail was comfortably the better boxer over six rounds but Ambombo is as tough as they come.
Queensberry had arranged a very nice tribute to Ron Lewis with a bunch of flowers at on a ringside seat and sensibly roped it off to prevent anybody who might be wearing sunglasses indoors from accidentally sitting in it.
It was a very enjoyable evening at York Hall. A decent crowd in made for a good atmosphere (without it being too packed), some TV-friendly KOs, and a good night out all round (and I was on the tube home before 11pm). I popped into the Dundee Arms for a pint (£6.70 for a Gamma Ray; sadly par for the course in this part of the world). There's a barber shop in-house and a chaise lounge outside the toilets and even though it was full of Friday night fight fans, the juxtaposition of such gentrified surroundings with the magnificent but spartan York Hall makes me fear for the future of the venue. Get down there while you still can.