Each week here on Off The Hook, we take a look back at some of boxing's greatest fights to share memories and thoughts regarding our sport's finest moments. This is 'Classic Fights'.

There aren't many fights in history that capture worldwide attention like George Foreman vs Muhammad Ali did.
The early 70's were a great time for heavyweight boxing, arguably the division's best ever era.  A whole host of hall of famers lined the weight class with quality and personality throughout.  It was also a time when the sport would transcend its usual boundaries, and many of the biggest attractions were taken all over the world, for political and financial reasons.
In 1974, boxing's biggest event would travel to Africa.  Largely funded by Mobutu Sese Seko, military dictator and President of Zaire (now the Democratic Republic of the Congo), the fight would take place in Kinshasa.
Ali, a former heavyweight champion, was presumed to be on the slide at 32 years of age.  He was famously stripped of the title outside of the ring for non-boxing reasons, and failed to regain it years later when given the chance against Joe Frazier.
Meanwhile, undefeated powerhouse George Foreman was destroying everyone in his wake.  Ali went to the wire with Frazier and Ken Norton twice each; Foreman had bounced them around the canvas like basketballs.  Public perception was certain to favour the current champ.
Ali, famed for an iron chin and supreme skill; Foreman, rated as a relentless knockout machine.  The fight had the makings of a classic.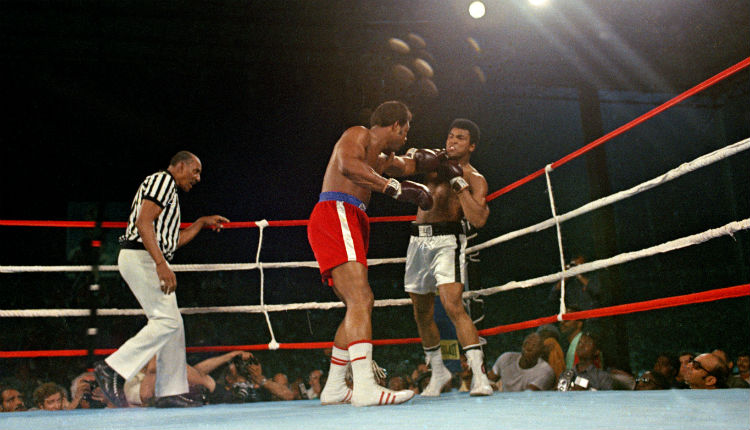 The bout started at a tremendous pace, with Ali fleet-footed and quick to fire off straight shots whenever he felt Foreman was in range.  Big George wouldn't back off though, and continued to march forward launching power punches at his opponent.  Ali expertly tied him up in close and held on smartly to buy time and frustrate the champion.
As the fight progressed, Foreman would seem to be growing in confidence as he almost exclusively managed to push Ali against the ropes for the majority of each round.  Ever the genius-tactician, Ali was able to use this to his advantage.  Wisely leaning back into the ropes, he would taunt Foreman by evading his lunges and countering with well-timed heavy shots of his own.
Foreman wasn't to be discouraged and kept coming forward, wailing away at the body and head, believing his unrivalled strength would eventually win through.
That would not be the case though.  He was outhustled and outwitted the longer the fight went.  As Foreman began to tire, Ali only confused him further by inviting him in and teased the champion in close.
At the end of round 6, Foreman's punches looked weary and his one-dimensional gameplan was clearly not going to work.
In hindsight, the next round showed that the end was near.  Foreman no longer had much weight behind his punches, and Ali was only biding time until he sensed an opportunity to finish him off.
That chance would come late in the 8th.  As Foreman's wild shots would continue to miss and leave himself open, Ali hurt him with a straight right and quickly recognised that the time had come.  Ali spun him around on the ropes and unleashed his arsenal of attacks until Foreman could stand no more.  The champion eventually rose to his feet, but was exhausted and could not continue.
This fight cemented Muhammad Ali's legacy as one of the greatest boxers of all time.  A redemption story 7 years in the making, he'd upset the odds to once again become heavyweight champion of the world.
Ali defended the title for another 3 and a half years before eventually losing to Leon Spinks.  He regained the crown later in 1978, beating Spinks in a rematch but age and ring-wear had caught up with him.
As time passed, Foreman would hunt for a rematch to no prevail.  He'd carve out history of his own though with a phenomenal career that would span all the way to the late 90's.
One of the greatest ever heavyweight title fights, 'The Rumble in the Jungle' will be forever remembered as a career defining fight for both men.
What legendary bouts would you like to see covered in 'Classic Fights'?  Let us know in our forum thread here and be sure to check back to OTHBoxing.com for more news and views.