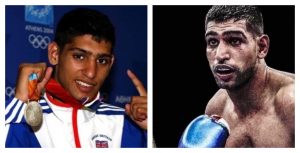 It is more than likely that April 20th will be the last time Amir Khan competes for a major world title against an elite fighter. While many (if not most) boxing fans consider a career-ending loss to Crawford a foreseen inevitability, it is worth reflecting on the promise, only partly realized, that Khan once showed.
It has been ten years since Khan won his first world title in a disciplined display of boxing against Andriy Kotelnik. It's hard to remember a time when he wasn't a household name headlining title bouts, milking sponsorships, and providing the internet with plenty of knockout meme material. But if they think back to his rise, many UK fans can attest to the perception that Khan was a manufactured star. Sports media was too eager to hype this handsome, talented-but-flawed amateur with blinding speed and questionable punch resistance. This sense of skepticism persisted in varying degrees among fans and critics alike, until it was ultimately rewarded with the infamous Prescott 1st round KO.
While this first fall from grace was a plummeting shock, it only made his road to redemption that much more compelling. I can distinctly recall the grudging respect I began to develop for Khan as he showed the ability to maximize his athletic gifts with a more technically sound approach designed by Freddie Roach. Khan's jab became his in-ring religion, and his well-drilled feet took him in and out of danger almost as quickly as he launched his flurries. His dismantling of Paulie Malignaggi in his US debut was not just dominant, but methodical. His destruction of Dmitry Salita was electric, his quick left hook reminiscent of another lightning-quick Freddie Roach disciple. But it wasn't until that 10th round against Marcos Maidana, a fight in which I rooted against him, that I, along with the rest of the boxing world, came to accept Khan as an elite fighter with a warrior's heart.
The long-range blitzing performances would continue to impress until the hiccup of Lamont Peterson. All agree it was a close fight, and one which revealed Khan's deficiencies on the inside in the face of Peterson's spirited aggression. But it was also one which could be swept under the carpet after Peterson failed a drug test, testing positive to synthetic testosterone. The real breaking point could be said to have come from the infamous KO loss to Danny Garcia. Khan had worked hard to shed the image of his glass chin and earn respect for his boxing ability, only to crash back into the skin of the fatally flawed fighter so many had fated him to be. As HBO's Jim Lampley put it, "You are looking at a career in crisis."
There were still fans, however, who felt that he had earned the benefit of the doubt. Khan split with Roach, who some blamed for neglecting to incorporate more defense into his style, and linked up with Virgil Hunter. Their pairing showed slow but steady progress. After a few tepid tune-ups and significant time off, the Khan that beat Luis Collazo showed newfound ability on the inside, and the Khan that beat Alexander looked much like the one beat Judah, with the added bonus of Andre Ward-esque lead hand control techniques.
Yet we would never see Khan carry that positive momentum into the kind of meaningful fight he had previously made routine. Chris Algieri-Khan's only fight in 2015-took Khan to his limit with steadfast aggression, from which Khan only narrowly escaped. Instead of trying to continue to establish himself at welterweight against solid contenders, perhaps with a rematch against Danny Garcia or the publicly demanded Kell Brook, Khan did the unthinkable and challenged Canelo Alvarez at 154lbs. While many called it brave, it's more accurate to say that it was an easy way to earn big money. The loss may have damaged his health and certainly didn't raise his stock, but the pressure of being expected to win the fight was nonexistent. He was paid handsomely for what was essentially a ritual slaughter. No amount of praise for his boxing ability in the early rounds could have compensated for the well-known inevitability of the result. Two years later, Khan is again challenging a candidate for Pound-for-Pound King, when he can't even get himself a top-10 ranking at welterweight.
There's a sense that we're back where we started in 2008: questioning whether Amir Khan is a legitimate name in the sport of boxing. On that front, Khan has not done himself any favors by choosing to once again go for the big cash-out that nobody expects him to win, instead of earning his spot the way other contenders have to. No argument in Khan's favor against Crawford sounds even remotely convincing. Has Khan done well against southpaws? Yes; but none as good as Crawford-not even close. Putting that aside, Crawford doesn't even need to fight southpaw, being quite possibly the best switch-hitter (not named Hagler) the sport has ever seen. Has Khan improved his defense? You wouldn't think so looking at his trip to the canvas against Samuel Vargas. Crawford has the most inch-perfect timing in the sport today, countering through miniscule windows of opportunity with brutal accuracy. It's a disaster waiting to happen for a fighter lacking the ability to perceive his own vulnerability in exchanges.
Post-Roach, Amir Khan has simply never taken the elements that make up his best possible style and put them together. Virgil Hunter can only do so much, and has appeared powerless to stop Khan from ignoring his golden advice to train in between fights and truly learn his craft. The lack of discipline shows. It has shown for years, and it will show Saturday night.
If this article feels like a eulogy, then perhaps it should. Not only for the career of the Khan we will see Saturday night, but for the Khan that could have been. But Khan won't have been the first fighter fans look back on with bittersweet regret, nor will he be the last. Let's all hope that his effort is at least one his remaining fans can be proud of.