After 12 hard-fought rounds against Luke Campbell, Vasyl Lomachenko has taken one step closer to unifying the Lightweight division.
Instead of a familiar routine domination by the Ukrainian technician, viewers were treated to seeing a special talent dig deeper than usual. From the beginning, Campbell made it a priority to maximize his advantages in height and reach, extending his right jab whenever possible. The occasional left hand caught Loma while pulling backwards from an exchange (even appearing to hurt him once in round 7), but the body was where Campbell did most of his best work. Lomachenko was happy to return the favor, and both fighters exchanged entire combinations downstairs. While Lomachenko did edge a majority of the rounds, it wasn't until the last third of the fight that Campbell began to weaken from Lomachenko's increasingly precise attack, leading to a knockdown and near stoppage in the 11th.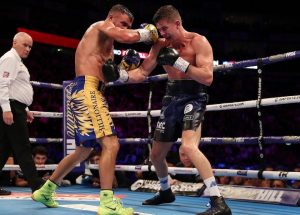 Fans will note that Campbell did what not many world class fighters have been able to do: make Lomachenko look human. This wasn't just a "brave" absorption of punishment, but a statement of Campbell's class as a potential future title-holder. The ever-loyal UK fans in attendance did their part to create a buzzing atmosphere, and both the favorite and the home underdog did their part to satisfy – or even exceed – expectations. If the judges' cards didn't reflect the competitiveness of the fight, the roar of the crowd sure did.
The fight raises interesting questions about what's next for Loma. It's highly likely that he completes unification within the next year. If so, he might eye a move to the Junior Welterweight division. But did this fight serve as a warning against taking on a much bigger opponent? Or is the lesson learned that a kryptonite style to neutralize that dazzling footwork might yet exist? Fight fans will simply have to wait and see. For now, Vasyl Lomachenko still reigns supreme.