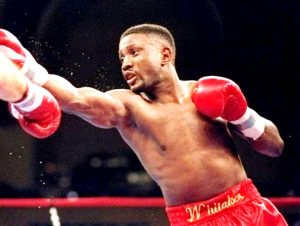 Boxing fans never needed an excuse to look back on Pernell "Sweet Pea" Whitaker's career with fondness and admiration. Today, however, we do so in commemoration of his untimely passing.
When reflecting on Whitaker's iconic status as an All-Time Great, his feats at the elite level, from Lightweight to Junior Middleweight, speak for themselves. An Olympic gold medalist, Whitaker would go on to have 23 World Title fights, beating Hall of Famers Azumah Nelson and Buddy McGirt, defending his title against the likes of Jose Luis Ramirez, Roger Mayweather, and Greg Haugen, overcoming champion Julio Cesar Vasquez, outboxing the legendary Julio Cesar Chavez, and giving a prime Oscar De La Hoya all he could handle after his own peak had long passed.
That (incomplete) list of names and honors alone is enough to cement a legacy in this long and storied sport. But it was how he accomplished these victories that continues to capture the imagination of boxing fans. None moved their head better, evading punches with ease and finding comfort in the narrow inches that made the difference between survival and unconsciousness. Few had ever moved so naturally and possessed such a complete skillset, using his dominance to toy with opponents and exude showmanship. He makes today's so-called slicksters look wooden by comparison, and gives greats like Duran a run for their money in beloved fantasy match-ups.
Whitaker's fame may not have rippled far outside of the sport's borders, but boxing fans will never forget his divine talent. May he Rest in Peace.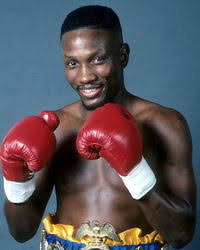 Read tributes from members of our own Forum community below:
Drew101:
"Pernell Whitaker was a brilliant boxer, renowned for his defensive wizardry, and he'll forever be remembered for his otherworldly skill, and for being the victim of two of boxing's most putrid decisions.
Rather than remember him just for that, though…I'll choose to remember other aspects of his career.
For, while he could certainly box circles around the likes of the legendary Azumah Nelson and long reigning junior middleweight title-holder Julio Cesar Vasquez and make them look ordinary, he could also find other ways to win. Whitaker produced a devastating one punch kayo over Juan Nazario to complete unification of the lightweight championship, and registered an equally vicious kayo over undefeated contender Louis Lomeli in a nationally televised title defense. He could take the fight to opponents and sap their strength with an impressive body attack, like he did to Jake Rodriguez. And, in one of the rare instances where he was out-boxed, he was able to bite down on his gum shield and overwhelm the undefeated, ultra-slick Cuban Diobelys Hurtado to record the last major win of his career.
Make no mistake…Pernell Whitaker was a phenomenal boxer.
But, he was a hell of a fighter, too.
And, that's how I choose to remember him."
Wansen:
"I never had the honor of meeting him (much to my regret) but I spoke to Roger Mayweather about Pernell who said without a doubt, he was the best he ever fought.
Whittaker was quite the loner. He usually had no entourage and preferred to spend most of his time alone.
I will never forget his answer when asked 'what makes a champion'?
'You have to live it, eat it, sleep it and breathe it 24/7' he replied."
JeffJ:
"Quite simply the greatest defensive fighter I've ever seen, or likely will ever see. I remember an interview with him where he said "when you can stand in front of a man and you can hit him but he can't hit you, that's a powerful feeling."
He's one of the guys I watched with my dad and uncles when they were teaching me the sport. This is a loss for the entire boxing world, but most importantly his family and friends."
Jdsm: