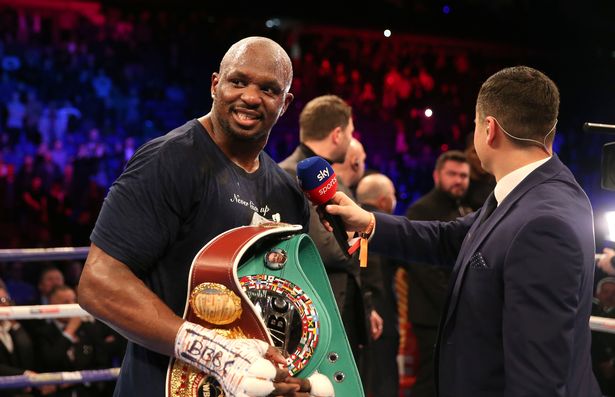 When the news broke last week that Dillian Whyte had tested positive for a banned substance just days before his fight against Oscar Rivas, people inside and outside of boxing were naturally upset, sceptical and intrigued.
The vast majority of people within boxing seem to agree (at least publicly) that performance-enhancing drug use within the sport should not be tolerated, and anyone caught doing so should be banned for considerable time, if not life.
Until they get caught themselves of course.  Then there's an excuse.  They didn't know that that substance was banned.  Their food or water must've been contaminated.  Or they needed the drug for some other reason.  Many of those excuses may well be valid but it's hard not to be concerned at such serious allegations.
We know that Whyte was cleared to fight, as promoter Eddie Hearn has repeated ad nauseam since the news broke, but what we don't know is why and whether there will be any future ramifications following the findings.
It all seems to be very confidential at the moment as potential legal issues are being discussed and obviously there are processes that the UK Anti-Doping agency and British Boxing Board of Control (who sanctioned the fight) have to adhere to.
I can understand why Dillian Whyte and his team may feel disappointed and annoyed at the way the news broke, and they may yet be innocent.  Until the situation is out in the open (if it ever is) we won't know.
Fans paid good money to watch last Saturday's box office show and have every right to be concerned and ask what's going on.  It is not fair to tell people to just shut up and "wait for the facts", particularly in a sport with the questionable integrity of boxing, or any professional sport these days for that matter.
Dillian Whyte doesn't deserve to be hung out to dry before any investigations have confirmed him as a cheat, but it's essential that the case can be discussed and properly looked in to rather than swept under the rug as was seemingly the hope.
Some other fighters and rival promoters have shared their thoughts on the matter and none of them seem sympathetic to Whyte's side of the story at the moment.
The additional news that Oscar Rivas and his team were not notified of a potential issue is also morally wrong.  Had this situation been reversed, we know damn well that Eddie Hearn and Whyte would be demanding answers and a resolution.  Rivas' promoter Yvon Michel has confirmed that they're looking into the issue and will take appropriate action if necessary.
What do you make of this whole situation?  Let us know your opinion here in our forum thread.