4. Welterweight Unification
Boxing fans are no stranger to promoter rivalries hampering the sport. Top Rank and Golden Boy feuded for years amidst the backdrop of Mayweather-Pacquiao drama before Floyd broke out under his own banner and move to Showtime. Most of the young welterweight talents-Errol Spence, Shawn Porter, Keith Thurman, Danny Garcia- have been fortunate to share allegiance to adviser Al Haymon and the Premier Boxing Champions brand. There's just one notable exception: Terence Crawford, a fighter frequently touted as a top candidate for pound-for-pound supremacy.
Common sense dictates that a fight between Crawford and Spence-who looks to be the fiercest of the crop head to head-makes too much sense to not get made. Given that Bob Arum's welterweight stable is rather thin by comparison, we should be able to see this bout before the end of the year. But it's not only cross-promotion complications that is stalling the division's progress. Porter seemed more than happy to sign a fight with Errol Spence following his win over Danny Garcia, and Spence looked willing to oblige him. Instead, we received news that Spence would be fighting the terribly undersized and ill-matched Mikey Garcia. It's not that the outcome would be much different; Porter may be just as sure to lose as Mikey is, should he face the power and accuracy of Spence's southpaw power punches. But he is a strong and worthy challenge, and those kinds of challenges serve to test the legitimacy of elite fighters.
But before we start painting the picture of a two-horse race between Spence and Crawford, let's not forget undefeated former champion Keith Thurman. Whether the criticism from fans for his inactivity was warranted or not, Keith Thurman is returning to the ring with clear intent to go after each major Welterweight title. Porter has his former WBC title, and has always wanted to avenge his close loss to Keith. Should he beat Porter a second time, fans can't afford to count Thurman out. He may not deliver knockouts as he once did and showed plenty of vulnerability against Josesito Lopez, but his ring generalship and versatility have earned him a pair of Welterweight scalps better than anyone else has at the moment.
And last, but not least, Manny Pacquiao. Is he good enough to hang with these fighters in their prime at 40 years old? Beating Broner isn't proof, but Manny's dominance and remaining athleticism in that performance suggests the others will have to prove him wrong with their fists to convince us.
And so, the stage is set for a sorting of the men from the boys in one of boxing's most historic divisions. Two cold-blooded operators building anticipation with each dominant performance, a wildcard returning to regain elite status, and a veteran great with just enough left to ask hard questions. Let Thurman prove he is still relevant against the deserving Shawn Porter, or perhaps Pacman in one last hurrah, while Spence and Crawford occupy the limelight. But boxing fans aren't so greedy; any permutation of the above would guarantee fireworks and happy spectators. Regardless of the outcomes of these bouts, fans are guaranteed to win.
5. A Signature Win for Vasily Lomachenko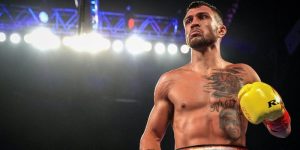 Photo: boxingnews.com.ua
Vasily Lomachenko is a phenom with seemingly limitless potential. Ever since his polemical loss to Orlando Salido, year after year has seen Lomachenko translate his amateur brilliance into professional dominance. The footwork, the angles, the combinations, the defensive prowess-it all dazzles and leaves us wanting more. His talent is one that isn't likely to exit the minds of boxing fans too quickly, even years after his eventual retirement. But there is a sense that he is lacking a truly deserving rival that would bring out the very best in him.
That suggestion might confuse those familiar with his resumé at first glance. No doubt he's taken on the best the sport has to offer in the divisions he's operated in. But is it enough for a fighter of his ability? Gary Russell Jr. was a great talent with blinding speed, and Loma absolutely dismantled him. Yet Russell's accomplishments don't quite match the perception of his supposed quality, and one mediocre fight per year in the last three years have not helped the victory age well. Nicholas Walters impressed the boxing world with his brutal knockout of Nonito Donaire and bullying of Manuel Marriaga; but again, hindsight points to the size discrepancies at play, which only serve to let his quit job against Lomachenko devalue the win. And speaking of discrepancies, it was not size and strength that brought Lomachenko victory against fellow amateur legend Guillermo Rigondeaux, but agility and skill. And yet, one can't help but feel that Rigondeaux never really belonged in the same ring as Lomachenko, even less so at that weight. Lomachenko insinuated as much himself in his post-fight interview.
No win is truly perfect and any great fighter's best wins can be downplayed by the naysayers. But this writer doesn't think he's alone in thinking that there is still a void to be filled in Lomachenko's career. With Mikey Garcia chasing glory two weight classes above, let's hope a deserving rival emerges and allows Loma the chance to stamp his name in the history books.
6. A Home for "Superfly"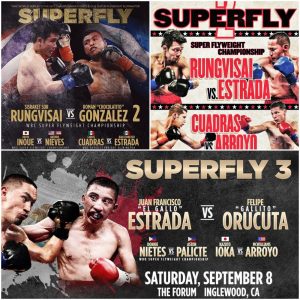 One of the bright spots featured during the decline of HBO's commitment to boxing, the "Superfly" series was a fantastic program showcasing elite Super Flyweight fighters. The idea for the program stemmed from the rise of Chocolatito Gonzalez, who went from relative obscurity to the top of Pound-For-Pound lists worldwide. After successfully co-headlining with another elite pressure-fighter in Gennady Golovkin for several fights, HBO featured 3 "Superfly" cards that not only showcased Chocolatito's abilities, but also created exposure in the USA for elite talents like Juan Fransisco Estrada, Carlos Cuadras, Bantamweight destroyer Naoya Inoue, and Chocolatito's eventual conquerer-the relentless Srisaket Sor Rungvisai.
Viewership numbers for the cards suggested a relatively healthy interest in what have historically been some of boxing's least popular divisions. But not only were the cards a success for lesser known fighters; they served as a model for familiarizing viewers with the faces of elite fighters that would likely face each other down the road. When Cuadras faced Estrada, we knew it would be a great fight match-up after having seen him take Chocolatito to a competitive decision. When Estrada beat Cuadras (after having already fought Chocolatito himself), we knew he was still more than worthy enough to trouble Sor Rungvisai. This kind of planned continuity of exposure is rare in boxing promotions.
With HBO Boxing now defunct, fans can only hope that these brave little guys and those just emerging that will follow can find a home with the same level of intelligent match-making elsewhere. The signs are positive thus far; DAZN has absorbed Inoue's fights by way of the World Boxing Super Series, and just reached a promotional deal with Sor Rungvisai. With the respective heads of their divisions making the jump, it's not hard to imagine the rest of the pack finding refuge on the same shore.